'Welcome to Boveys Down Farm...'
"Best thing my friends & I have done. Very lovely campsite. Clean & helpful. Absolutely fabulous."

Boveys Down Farm has all your camping facilities catered for; our fully insured site offers caravan, motorhome and tent pitches with fees starting from only £12 per night.
(All quoted fees are inclusive of usage of all camp site's communal facilities including showers; toilets; campers' sink, fridge, microwave and freezer.)
You can find all the information you may need below including our latest Price List and Online Booking Sheet.

There is a small area of woodland available for tent pitches as well as a small rent-able on-site caravan affectionately known as 'Janet's Caravan' which is available for booking.
Please 'Scroll Down' for more site information!

For ideas on how to enjoy your holiday check out our 'Things to do' page.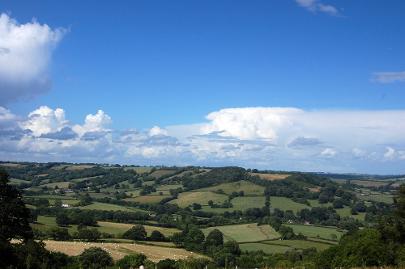 Views from the camp site of the beautiful Coly Valley.
NEW : 'Glorious Glamping'
Two stunningly luxiourious bell tents now available to rent...
Click Here for more info
"What a delightful rural spot. Reminders of our own camping days with families. Cream tea was delicious never in other camp sites! Thanks"
April 2014
Boveys Down Farm has a variety of available facilities and welcomes all types of campers and caravanners. Our farm is a quiet, rural located site off the beaten track and offer a peaceful and tranquil holiday for our guests in the serenity of nature. We have recently modernized, renovated and extended our toilet/shower facilities as well as revamped our electric hookups allowing more power to our tent users! We also now offer the rental of our onsite caravan which can be bolted on to group bookings or rented independently.
Below is all the information you'll need, however if you have any further questions please do not hesitate to call us.
Our newly renovated toilet block now offers two newly installed modern showers/toilets and a recently fitted communal 'washing up' area.
(Hot water available in both showers/toilets and sink area | no additional fees required: facility usage included in pitch fee)
Facilities available onsite...
Hard Standings Available

Towing Caravans Space

Tent Pitches

Chemical Disposal (CPD)

F

amily Friendly Site

Dogs Welcome

Toilet/Shower Block

BBQs Welcomed

Beach Nearby
Meals and Hot Food

Camp Fires Permitted


Disabled Access

Electric Hookup Facilities

Golfing Nearby

Internet Access

Essentials available

Wi-Fi
"Amazing Views; just perfect. Thank you."
Miranda & Kate, London, 2014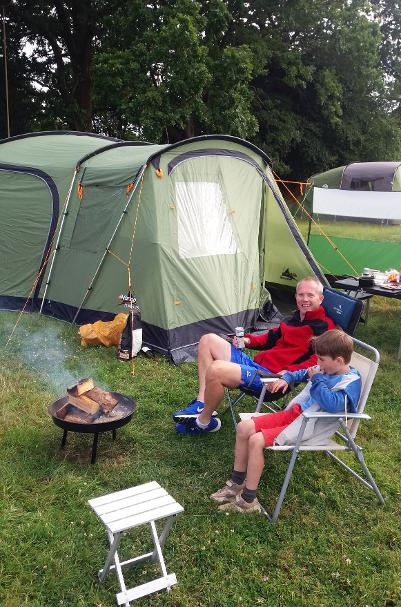 Some of our 'Happy Campers'!!!
'Click' & Download our latest Price List, and other
relevant information sheets below..
Local Amenities (nearest by car)
Supermarket - Seaton or Honiton (10 minutes)

Pub - Hare and Hounds (5 minutes)

Beach - Branscombe or Sidmouth (10 minutes)

Golf - Honiton Golf Club (5 minutes)

Horse Riding - Devenish Pitt Riding (2 minutes)

Swimming Pool - Honiton (10 minutes)

Nearest Village - Farway (Less than 5 minutes)

Nearest Town - Honiton (10 minutes)

Charter Fishing - Seaton ( 10 minutes)
__________________________________
"A lovely stay and a privilege to be there for the birth of a calf. Thank you for being so welcoming."
Paul & Francesca, Aug 2014
__________________________________
"Wonderful welcome. Peace and quiet and beautiful views…a lovely holiday."
Amber aged 9, Carrington, Aug 2015
__________________________________
"Its my first time ever camping and its been the most fantastic experience. Lovely people, met new friends, definitely coming again".
July 2014
______________________________
"Super dooper steak and beans on toast and burger delicos J!!!" Oscar from Norfolk, July 2014
Boveys Down Farm & Camp Site - 01404 871480
Please Note...
(Please aquaint yourself with out 'Terms and Conditions' prior to booking. Although we are open all year, in periods of wet weather (especially winter) the camping field may become un-suitable for vehicles/pitches at which time we can only offer limited space on hard standings for caravans, motorhomes or equivalent. Bookings may be rejected/cancelled at such times.)