"Brilliant hosts, beautiful spot and delicious homemade pie!"
Katherine - June 2022
Special spring prices!
'The Orchard'
Situated in a unique and beautiful private location, our two luxury adjoined emperor bell-tents offer a private BBQ area and kitchen 'potting shed' with unique valley views.
Furnished with a comfy double bed, three further fold out beds which can be used as a living room area or second bedroom - this glamping area offers a discerning level of luxury for your retreat or getaway.
Sleeps a maximum of 6 or comfortably 2 or 4 people.
£120 per night for two - minimum stay 2 nights
(£25 per extra guest - can sleep up to six in total)
'The Willows A'
A beautifully secluded spot overlooking the valley of Farway - this bell tent has a small cosy double bed.
£54 per night (sleeps 2) - minimum stay 2 nights
'The Willows B' |
A lovely site with own outdoor BBQ space with a beautiful vantage point over East Devon's Area of Outstanding natural beauty. This bell tent has a double bed and a sofa bed (which can be used as a single bed).
£98 per night (sleeps two) - minimum stay 2 nights
£25 for extra guest (space for one extra bed)
Extra beds can be added on request.
All glamping bookings are through Airbnb - please use the links above.
'Retro Caravans'
We also have two retro caravans on site that are available to rent. SEE HERE.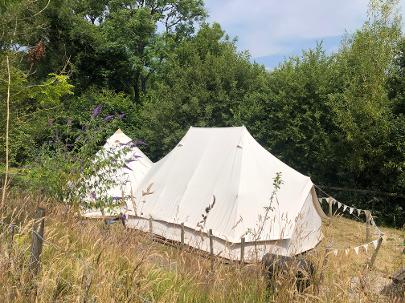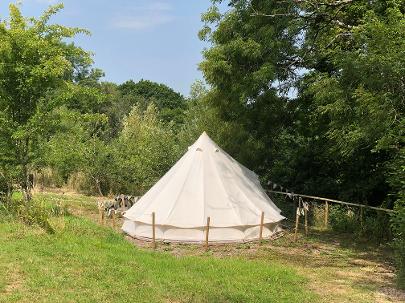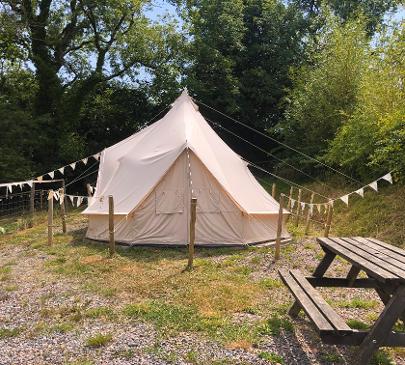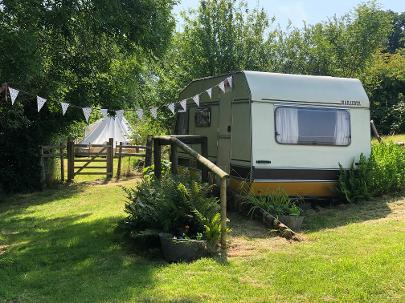 "This is a truly lovely rustic glamping spot. The views over the valley are stunning

and Pam and Gerald's hospitality is second to none."
Ian and AJ - August 2019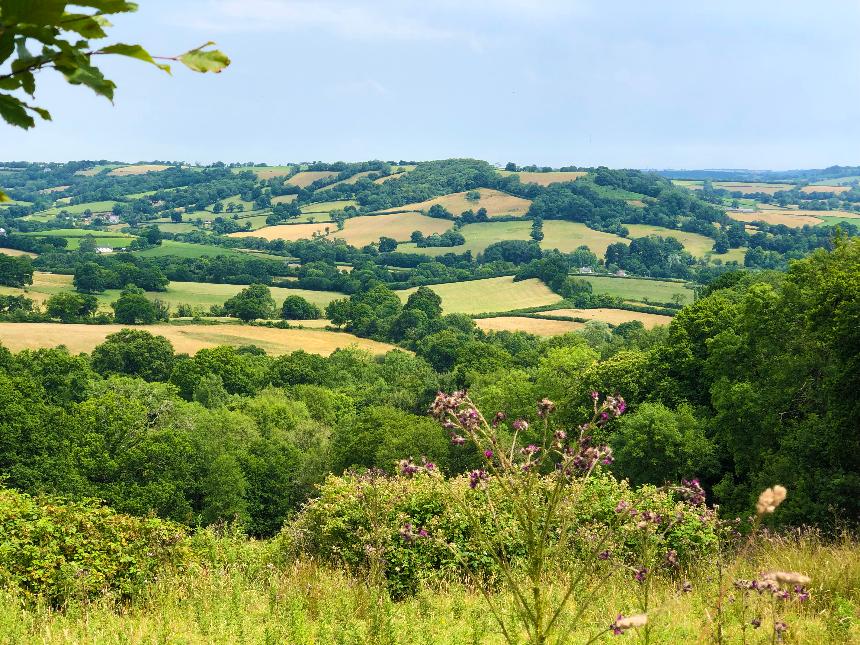 All linen, towels, glassware, china and cutlery are included with each bell tent.
Toilets and showers are situated right next to The Orchard,
for The Willows these are a short walk away.
The Orchard site also has its own 'Potting Shed' Kitchen for sole use,
private BBQ area and outdoor seating.
The Willows A and B each have a picnic bench, a BBQ space
and a small camping stove and kettle for use outside.
Fire-pits and logs are included with all glamping bookings.
If you have any questions please do get in touch
via email: info@sweetlands.co.uk or
call us on 01404 871436.
"We had a wonderful time glamping - beautiful location, great food

and friendly hosts. We will be back!"
Jones Party - July 2017
We are also part of the collaboration with Devon Glamping UK,
supporting small businesses you can find us there too: